Reproduce Details for Cinematic Senses with True 4K HDR
Get ready for true 4K HDR with cinematic wonder like you're in an authentic digital cinema. For audio-video enthusiasts who want to take in every little detail for truly cinematic experiences, enjoy the super-wide DCI-P3 color space with film-like texture and playback as directors envisioned, BenQ HT3550 4K HDR CinePrime Projector with CinematicColor™ technology ushers awe-inspiring movie magic into your personal AV room.
CinematicColor™ for Colors as Directors Envisioned
CinematicColor™ technology utilizes optimal colors to bring out accurate and enhanced images. CinematicColor's super wide DCI-P3 color space (covering far greater visible spectrum than Rec. 709), high native ANSI contrast ratio and ISFccc certified calibration ensure incredible image performances and deliver detailed, sharp and crisp visuals to accompany your pro cinema enjoyment.

Super-Wide DCI-P3 Color Rivaling Digital Cinemas
Enhancing optimal colors for precise picture quality, BenQ CinematicColor™ technologyreachAmerican film industry's 95% super wide DCI-P3 color space, covering far greater visible spectrum than Rec. 709. With DCI-P3, HT3550 perfectly reproduces authentic cinematic quality with wide and precise color accuracyashow the directors have originally envisioned.

Enhanced Color Mapping for Reproduction of Natural Hues
Unlike other projectors with biased color temperature and oversaturated greens and reds, BenQ Enhanced Color Mapping technology performs precision color rendition to unleash breathtaking visuals with perfectly lifelike colors automatically tuned to reflect nature when viewing DCI-P3 4K Blu-ray movies.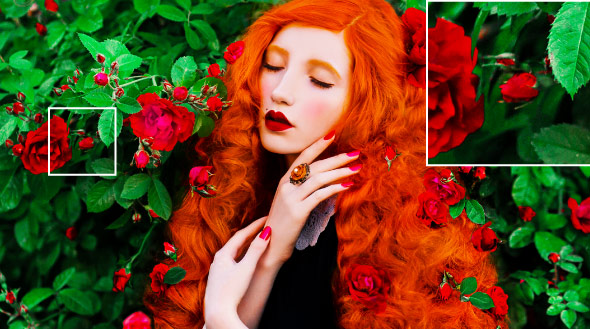 Factory Calibrated Out-of-the-Box Color Accuracy
Using special instruments and software, HT3550 is tested and adjusted for precise D65 color temperature, gamma, black level, white level, neutral grey, RGBCMY color tracking, hue, saturation, brightness and output based on ITU-R Rec.709. All data from multiple interfaces is compiled for individual factory calibration reports, guaranteeing 100% Rec.709 with Delta E<3*, also implement an optimal DCI-P3 color table by BenQ exclusive CinematicColor technology to reproduce authentic colors of Hollywood films.
*Delta E quantifies the difference between a reference color and the projector's actual color based on L*a*b* coordinates to represent "a difference in sensation." Delta E<3 performance means virtually no perceptible color difference to the human eye. (Delta E<3 performance enabled in D. Cinema modes.)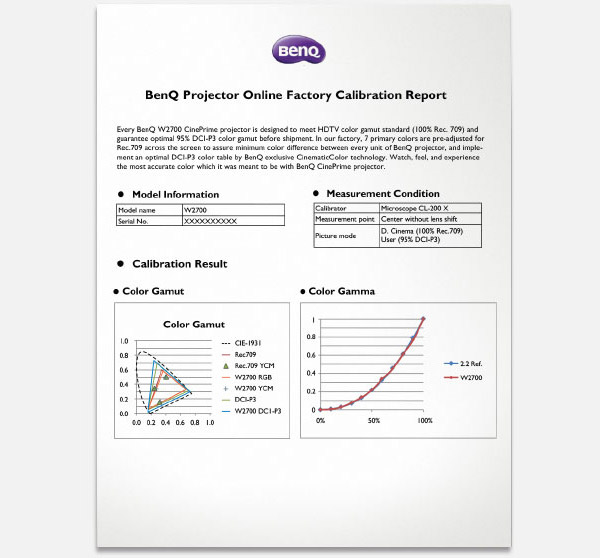 ISFccc® Certified Visual Calibration
By incorporating the Imaging Science Foundation's highly reputed ISFccc® Certified Visual Calibration, the image and color performance can be customized for any space, along withpre-setlight balance modes for day and night.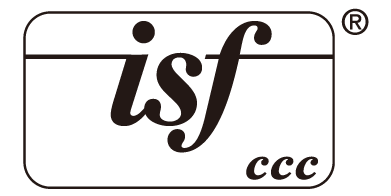 Hyper-Realistic Video Quality with HDR-PROTM
Optimized for projection, BenQ exclusive HDR-PRO technology enhances the 4K HDR viewing experience. Employing enhanced tone mapping, HDR-PRO offers greater contrast range to bring out every detail from 4K Blu-rays as well as streaming content for unparalleled cinematic enjoyment.
Supercharged by HDR10 & HLG
BenQ's HDR-PRO technology is supercharged by HDR10 & HLG(Hybrid Log-Gamma) support, offering incredible visuals whether you're blasting through a Blu-ray movie or streaming content, sports match on popular platforms.
* HLG is a high dynamic range (HDR) standard that was jointly developed by the BBC and NHK, supported by video services such as the BBC iPlayer, DirecTV, Freeview Play, and YouTube.
Optimized Movie Modes for Tailored Home Cinema
To achieve fully personalized home cinema experiences, HT3550's optimized movie modes are tailored to provide authentic cinematic colors as directors intended in environments including professional AV rooms and living spaces.
Authentic Cinema Reproduction for Dark Rooms
D.Cinema Mode
Reveals wide-ranging colors and subtle details in movies utilizing 100% Rec.709 color gamut, to showcase the finest 1080p SDR content in a comfortable AV room environment.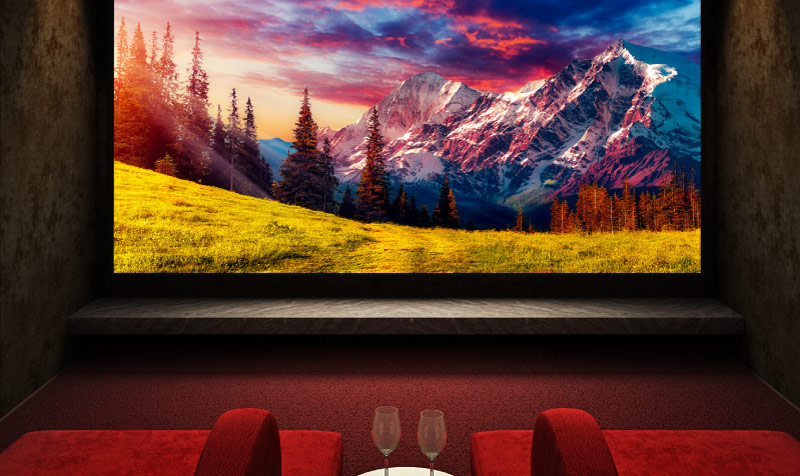 HDR Mode (Wide Color Gamut Enabled)
Provides the highest dynamic contrast and true color reproduction based on HDR-PRO technology and 95% DCI-P3 color gamut, ideal for 4K HDR Blu-rays and streaming HLG content in comfortable AV room settings.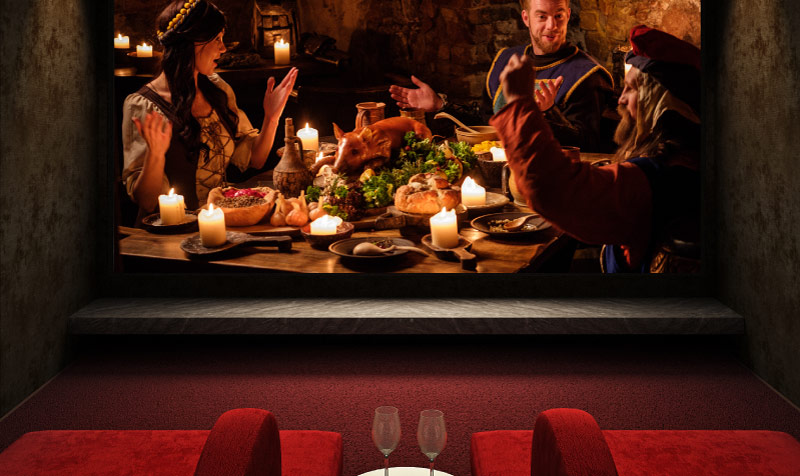 Big-Screen Movie Experiences for Living Rooms
Cinema Mode
Heightened brightness to reproduce Rec. 709 color accuracy for enjoying 1080p movies in higher ambient brightness.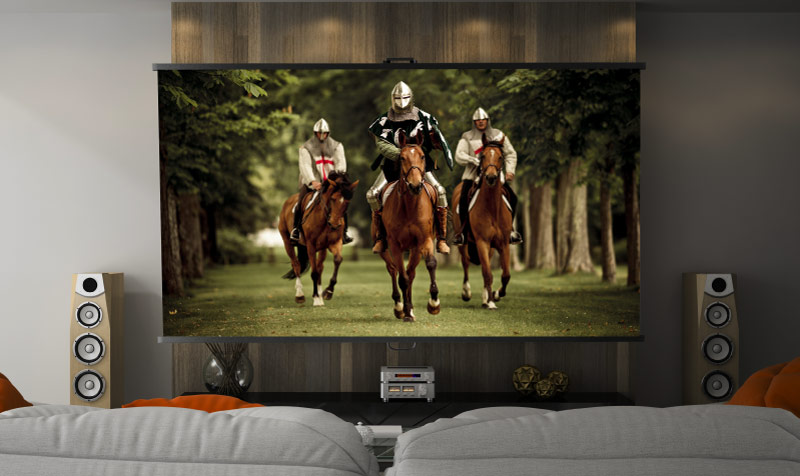 HDR Mode
Designed for watching 4K HDR Blu-rays and streaming HLG content based on Rec. 709 and HDR-PRO technology in higher brightness environments.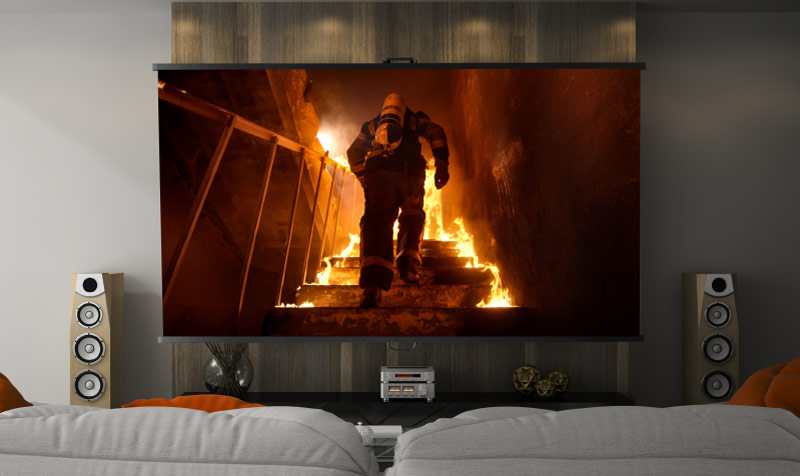 Film-Like Motion for Cinematic Rhythm
To enjoy the authentic movie shot exactly as the director intended, W2700 supports 24 frames per second (fps) playback which can accept high definition sources without judder in HDR mode to preserve the purity of the original image, so your 4K movies can be displayed at the correct cadence, without the need for pulldowns which distort playback of the source video.
The Art and Craft of True 4K UHD
4K UHD True 8.3 Million Pixel Perfection
Producing 4K UHD 3840x2160 resolution with 8.3 million distinct pixels for each frame, HT3550 utilizes the new generation 0.47" single-DMD DLP technology to minimize the projector's sleek, compact profile for modern lifestyles. With four times the resolution of Full HD 1080p, 4K UHD reduces pixel blur for awe-inspiring clarity and crisply defined fine details.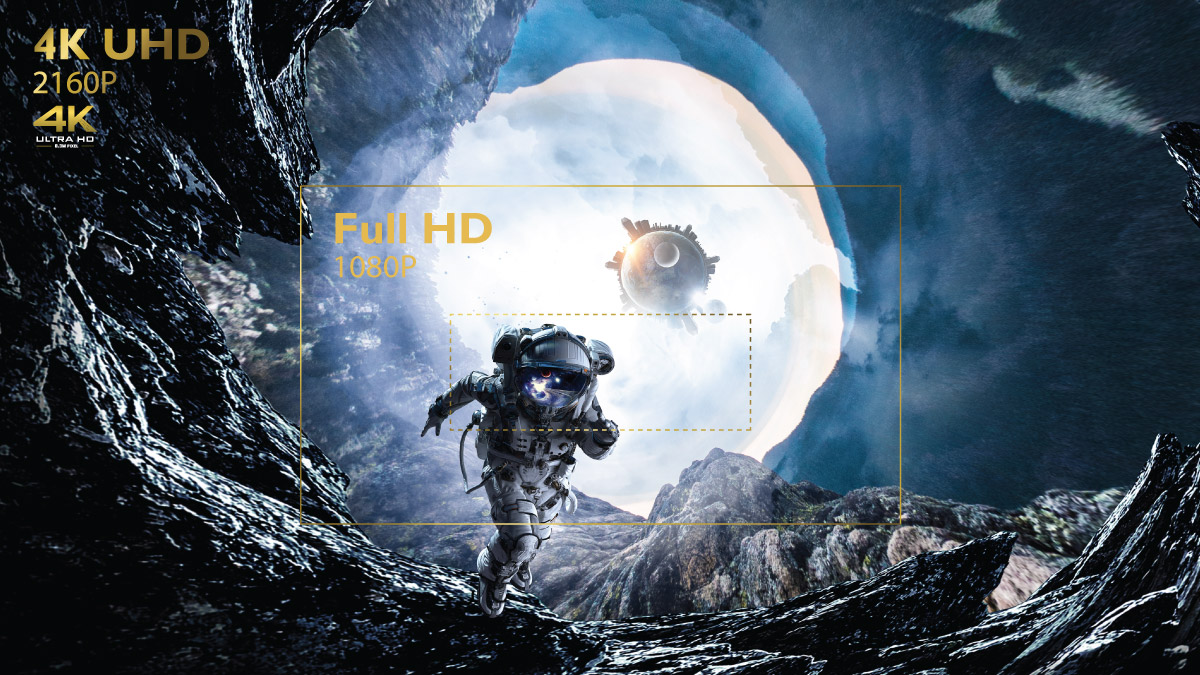 Precision 10-Element 8-Group All Glass 4K-optimized Lens Array
Super-high resolution 10-element lens array is structured into eight groups with metal barrel and cell framework, far outshining 1080p projector technology with greater light penetration for long-lasting 4K intensity with heart-stopping color performance, clarity, and sharpness across the entire screen.
Unparalleled Audiovisual Experience
CinemaMaster Video+ for Majestic Scenes
CinemaMaster™ Video+ turns any room into a world-class home theater with video-enhancing technologies sure to please even the most critical movie enthusiasts.
CinemaMaster Audio+ 2 for Massive Sound
Upgraded with dramatically wider frequency range from stereo 10-watt audio housed in a resonant sound chamber for deep bass and soaring highs, BenQ CinemaMaster Audio+ 2 audio-enhancing technology also provides exclusive EQ algorithms for pure clarity and sensual sound quality as used by Hollywood studios.


Flexible Adjustment for Screen Alignment
HT3550's lightweight design and sleek, compact profile accentuates beautiful aesthetics as well as intuitive functionality. HT3550 delivers cinematic wonder in any space with powerful short throw, 1.3X big zoom, with vertical lens shift and for hassle-free installation.


Hassle-free Integrated Zoom Adjustment
Focusing automatically regardless of screen size variations, HT3550's zoom system adjusts to follow focus adjustments, optimizing the zoom ratio to deliver visually perfect focus without blemish for high-precision clarity at every corner of the image simultaneously.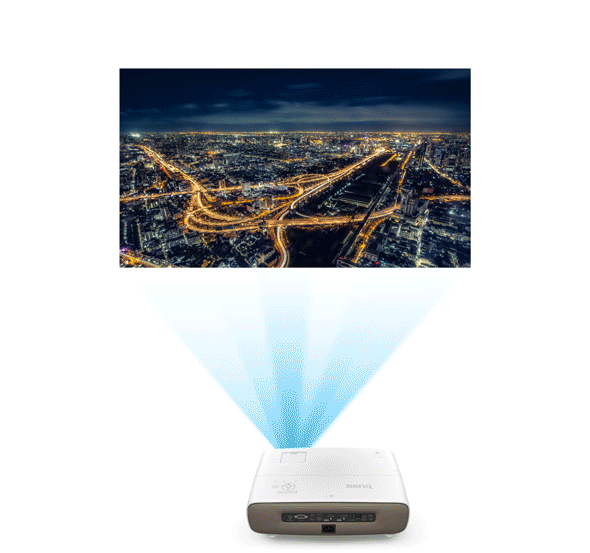 Lens Shift and 1.3X Big Zoom
HT3550 offers vertical lens shift 10% to fit perfectly into any room with a dynamic range of projection distances and heights. And the 1.3X big zoom offers a wide range of throw distances to significantly increase installation flexibility for diverse mounting and placement options, easily turning any space into a truly inspirational home cinema.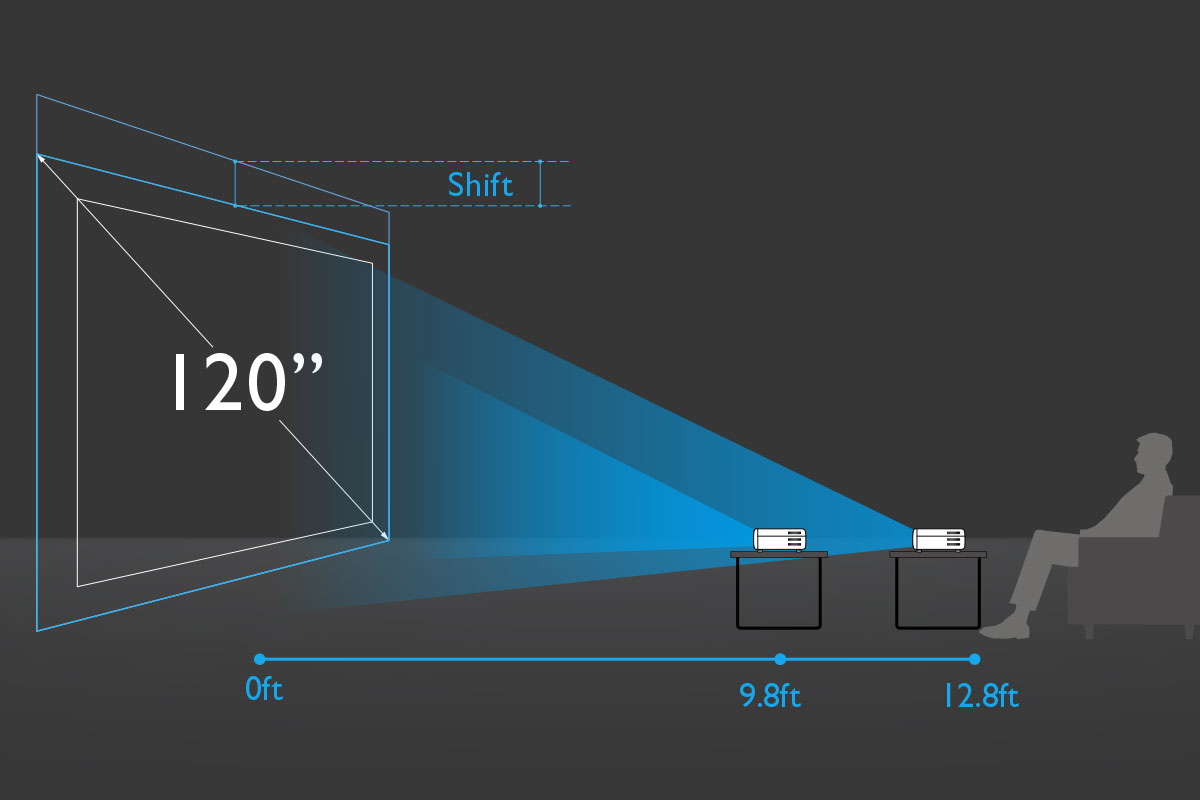 Auto Vertical Keystone for Easy Setup with Perfect Alignment
Countering the trapezoid effect when the projector must be placed off-center, such as simple placement on top of a table, the vertical keystone function adjusts the image for a professionally squared image. Keystone correction makes it simple to project ideally aligned images from a variety of locations.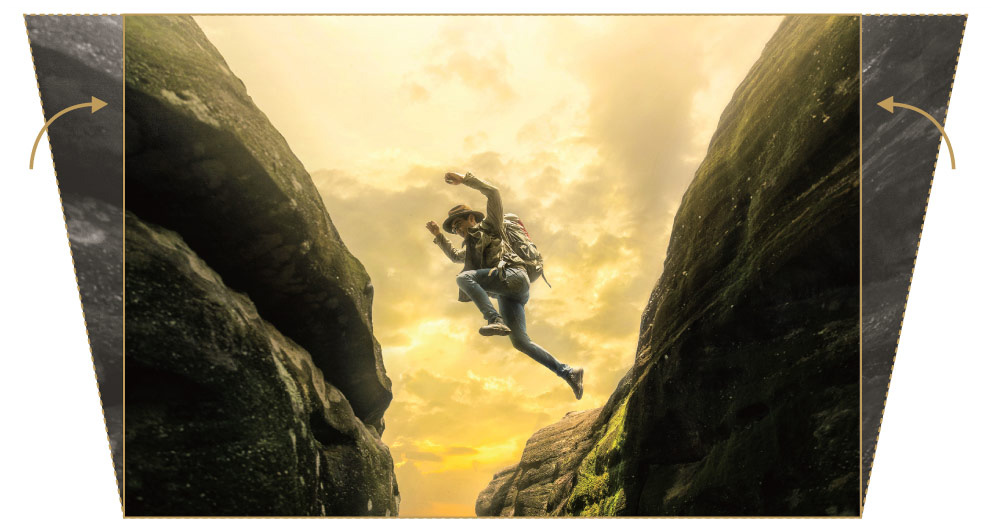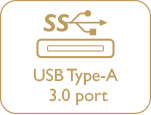 USB Type-A 3.0 that can transfer data at up to 5 Gbit/s, which is about 10 times faster than the USB 2.0 standard.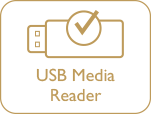 USB Media Reader for Sharing without Cables
HT3550's lets users easily project content from removable disk directly without any hassle cable with high-speed transmission. Supporting a wide range of files including video, audio, picture.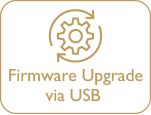 Effortless Maintenance of Firmware Upgrades
HT3550's USB upgrade capability keeps it operating at peak efficiency with the latest firmware, providing both simple operation and effortless maintenance.
Specifications
Model
HT3550
Environmental Notice

Lamp in this product contains mercury. To dispose of the product or used lamps, consult your local environment authorities for regulations.

Projection System
DLP
Native Resolution
4K UHD (3840 x 2160)
Brightness (ANSI Lumens)
2000 ANSI Lumens
Contrast Ratio
30,000:1
Display Color
30 Bits (1.07 billion colors)
Rec. 709 Coverage
96% (Color Wheel: RGBRGB)
Speaker
Chamber Speaker 5W x 2
Aspect Ratio
Native 16:9 (6 aspect ratio selectable)
Throw Ratio
1.13 - 1.47 (100" @ 2.5 m)

Image Size

30"~200"

Zoom Ratio
1.3x
DMD Type
0.47"
Lamp Life (Normal/ Economic/ SmartEco/ LampSave/)*

Normal 4,000 hours

Economic 10,000 hours

SmartEco 15,000 hours

Operating Temperature
32 - 104 degrees (Fahrenheit)
Projection Offset
110%
Resolution Support
VGA (640 x 480) to 4K UHD (3840 x 2160)
Horizontal Frequency
15K-135KHz
Vertical Scan Rate
23K-120Hz
Interface
HDMI-1 (HDMI 2.0 & HDCP 2.2) x 1
HDMI-2 (HDMI 1.4a & HDCP 1.4) x 1
USB Type A (1.5A power) x 1
USB Type mini B (service) x 1
Audio in (Mini Jack) x 1
Audio out (Mini Jack) x 1
RS232 in (DB-9 pin, Male) x 1
IR Reciever (Front & Top) x 1
Computer in (D sub 15pin, Female) x 1
DC 12V Trigger (3.5mm Jack) x1
Dimensions (W x H x D mm)
13.9 x 5.31 x 10.71 inches
HDTV Compatibility
720p 50/60Hz, 1080i 50/60Hz, 1080p 24/25/30/50/60Hz, 2160p 23/24/25/30/60Hz
Video Compatibility
NTSC, PAL, SECAM
Weight
4.2 kg (9.2 lbs)
Audible Noise Level (Normal/ Economic Mode)
33 / 29 dBA
Power Supply
VAC 100 ~ 240 (50/60 Hz)
Power Consumption
Max 350W, Normal 340W, Eco 280W
On-Screen Display Languages

Arabic /Bulgarian/ Croatian/ Czech/ Danish/ Dutch/ English/ Finnish/ French/ German/ Greek/ Hindi/ Hungarian/ Italian/ Indonesian/ Japanese/ Korean/ Norwegian/ Polish/ Portuguese/ Romanian/ Russian/ Simplified Chinese/ Spanish/ Swedish/ Turkish/ Thai/ Traditional Chinese (28 Languages)

Accessories (Standard)
Remote Control w/ Battery x 1 (5J.JKC06.001)
Power Cord x 1 (10 feet)
User Manual CD
Quick Start Guide
Warranty Card
Lens Cover
Accessories (Optional)
Spare Lamp Kit (5J.JKC05.001)
DLP 3D Glasses
*Lamp life results will vary depending on environmental conditions and usage. Actual product's features and specifications are subject to change without notice.
Warranty
BENQ AMERICA CORP. END USER LIMITED WARRANTY
DIGITAL PROJECTORS


Subject to the terms and conditions set forth below, BenQ America Corp. ("BenQ")
warrants the BenQ Digital Projector ("Product") you have purchased from BenQ online
store or from a BenQ authorized retailer in the United States on or after May 1, 2010 to
be free from defects in materials or workmanship under normal consumer use during the
warranty period in the continental United States, Hawaii, and Alaska. If the Product
becomes defective during the warranty period BenQ will, at its option, repair or replace
the Product. BenQ may use new or reconditioned components or parts to repair the
Product, or replace the Product with a new or reconditioned Product of the same or
functionally equivalent model.
BenQ Projector Standard Limited Warranty: Subject to the exclusions set forth
below:
Three (3) years from the purchase date by the original retail purchaser (the "Customer")
(except for lamps as specified below and refurbished units which have a separate
warranty policy), parts and labor only (No advance replacement).

Lamp Warranty: Pre-installed Lamps on new units have a 180 day or 500 hours warranty from the purchase date
by the Customer, whichever comes first.

Return Merchandise Authorization Shipping: The Customer will pay shipping
freight to BenQ or a BenQ Authorized Service Provider and BenQ will pay shipping
freight to the Customer during the warranty period.

DOA (Dead On Arrival): Must be reported within thirty (30) days of purchase. An
RMA number must be issued in order to process the replacement. BenQ will replace
the DOA unit with a brand new replacement. BenQ will cover the freight charges
both ways.

Shipping Damages: All shipping damages must be reported within seven (7)
business days upon receipt of the Product. BenQ is not responsible for the shipping
damages reported after such period.

Repaired or Replaced Parts and Products: All repaired or replaced parts or
products shall be warranted only for the remainder of the original warranty period
specified above.

Obtaining Depot Warranty Service
If you purchased a BenQ product in the continental United States, Hawaii, and Alaska,
you are entitled to depot repair service during the warranty period subject to the
following terms and conditions:

1. Depot warranty service is available for all Products purchased and located in the
continental United States, Hawaii, and Alaska.

2. You must contact BenQ Technical Support Center at 1-866-600-2367.

3. BenQ or BenQ Technical Support Center will attempt to resolve technical issues over
the phone. If telephone resolution is not possible, BenQ or BenQ Customer Service
Center will then issue a Return Merchandise Authorization ("RMA") number to be used
as a means of identifying the product returned. RMA authorization numbers are valid for
thirty (30) days and void thereafter

4. You must return the product to BenQ unless otherwise directed by BenQ to a BenQ
Authorized Service Provider. You must prepay any shipping charges, export taxes,
custom duties and taxes, or any charges associated with transportation of the BenQ
product. In addition, you are responsible for insuring any Product shipped or returned and
assume the risk of lost packages.

5. All returned Products must be accompanied with (i) the original shipping and packing
materials, (ii) a description of the BenQ product symptom and (iii) proof of the place and
date of purchase. The RMA number must be clearly printed on packing slip and on the
exterior-shipping container. All Products must be sent in secured packaging to avoid any
shipping damages.

6. BenQ and BenQ Authorized Service Provider reserve the right to refuse and return,
freight collect, Products (i) that are not covered by BenQ's warranty; or (ii) for which
there is no trouble found. Products delivered to BenQ or a BenQ Authorized Service
Provider with an expired RMA may be refused and returned, without prior notice, to the
Customer freight collect.

7. BenQ or BenQ Authorized Service Provider will use its best efforts to service Products
within thirty (30) days after receipt of the Products at its warehouse facilities. For return
shipments of the Products, except otherwise described herein, BenQ or BenQ Authorized
Service Provider will pay the shipping cost and retain risk of loss until delivery to the
Customer's location as evidenced by signature collected by carrier. The Customer may
designate only one location within the continental United States, Hawaii, and Alaska for
return shipments. BenQ and BenQ Authorized Service Provider are not responsible for
shipping or other delays beyond their control.

Exclusions
This limited warranty does not extend to any Product not purchased from the BenQ
authorized reseller. This limited warranty also does not extend to any product that has
been damaged or rendered defective (a) due to normal wear and tear; (b) as a result of use
of the Product other than for its normal intended use, or other misuse, abuse or
negligence to the Product; (c) by the use of parts not manufactured or sold by BenQ; (d)
by modification of the Product; (e) as a result of service by anyone other than BenQ or a
BenQ Authorized Service Provider; (f) improper transportation or packing when
returning the Product to BenQ or a BenQ Authorized Service Provider; (g) improper
installation of third-party products; (h) improper environment (including improper
temperature or humidity); (i) unusual physical or electrical stress or interference, failure
or fluctuation of electrical power, lightning, static electricity, fire, or acts of God. BenQ is
not responsible for damage to or loss of any programs, data or removable storage media.
You are responsible for saving (backing up) any programs, data or removable storage
media.

Other Limitations

EXCEPT FOR THE WARRANTIES SET FORTH HEREIN, BenQ DISCLAIMS ALL
OTHER WARRANTIES, EXPRESSED OR IMPLIED OR STATUTORY,
INCLUDING BUT NOT LIMITED TO THE IMPLIED WARRANTIES OF
MERCHANTABILITY OR FITNESS FOR A PARTICULAR PURPOSE. ANY
IMPLIED WARRANTIES THAT MAY BE IMPOSED BY APPLICABLE LAW ARE
LIMITED TO THE TERMS OF THIS LIMITED WARRANTY. IN NO EVENT
SHALL BenQ BE LIABLE FOR ANY INDIRECT, INCIDENTAL, SPECIAL OR
CONSEQUENTIAL DAMAGES OF ANY KIND, INCLUDING BUT NOT LIMITED
TO LOSS OF BUSINESS, REVENUE, PROFITS, INFORMATION, DATA OR USE,
WHETHER IN AN ACTION IN CONTRACT OR TORT OR BASED ON A
WARRANTY, ARISING OUT OF OR IN CONNECTION WITH THE USE OR
PERFORMANCE OF THE PRODUCT, EVEN IF BenQ HAS BEEN ADVISED OF
THE POSSIBILITY OF SUCH DAMAGES. YOU AGREE THAT REPAIR OR
REPLACEMENT, AS APPLICABLE, UNDER THE WARRANTY SERVICES
DESCRIBED HEREIN IS YOUR SOLE AND EXCLUSIVE REMEDY WITH
RESPECT TO ANY BREACH OF THE BenQ LIMITED WARRANTY SET FORTH
HEREIN. IF, DESPITE THE FOREGOING LIMITATIONS, FOR ANY REASON
BenQ BECOMES LIABLE TO YOU FOR DAMAGES INCURRED BY YOU IN
CONNECTION WITH THIS AGREEMENT, THEN, THE LIABILITY OF BenQ WILL
BE LIMITED TO THE AMOUNT EQUAL TO THE INVOICE AMOUNT PAID BY
YOU TO BenQ OR A BenQ AUTHORIZED RESELLER FOR THE PRODUCT.

All prices, products, terms and conditions are subject to change without notice. Some
states or provinces/jurisdictions do not allow the exclusion or limitation of incidental or
consequential damages for consumer products, and some states or provinces/jurisdictions
do not allow limitations on how long an implied warranty lasts. In such states or
provinces/jurisdictions, the exclusions or limitations of this limited warranty may not
apply to you. This limited warranty gives you specific legal rights. You may also have
other rights that vary from state to state/jurisdiction to jurisdiction. You are advised to
consult applicable state and provincial/local laws for a full determination of your rights.

Please call Technical Support Center to report a defective product.
Hours: M-F 8:30am – 5:30pm PST
Phone: 866-600-2367

To avoid delays, please DO NOT SEND ANY BenQ product to BenQ or BenQ
Authorized Service Provider without BenQ's authorization.
Downloads